---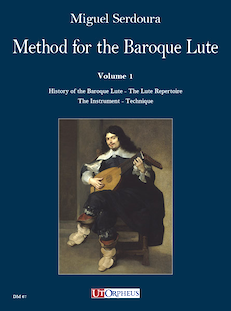 About this release
Our 'Method for the Baroque Lute' can provide you with the technical and musical foundations required for a solid and comprehensive approach to playing the baroque lute. That is indeed the purpose, and challenge, of this book: to reach out to as many lute-lovers as possible, and give them the opportunity to express themselves via the baroque lute, however advanced they may be in their musical education. Its audience includes not just those who have never played a musical instrument, but also seasoned guitarists desirous of initiation into the mysteries of the baroque lute!
Instructions
The first, mainly theoretical part, will help you better understand the way baroque lute music is to be played. We think it is necessary for the lutenist to possess some elementary knowledge of Western musical notation as well as of tablature (form of notation specific to the lute). This theoretical knowledge would not be complete if acquired by itself. We have therefore added an explicative lexicon as well biographies of most of the composers of music for the 11- and 13-course baroque lute.
The second part contains an entire chapter devoted to the study of lute technique and sound production. With a wealth of photographs and details regarding all the technical problems to be overcome, this chapter is undoubtedly the most important for achieving an understanding of the baroque lute's acoustical properties. This is followed by 21 elementary exercises, presented in order of increasing difficulty, accompanied by several pieces. You are asked to play the melodies first, add the bass lines next, and only then begin working on the ornaments.
The third part contains 250 selected pieces for the 11- and 13-course baroque lute. The pieces are divided into three levels of difficulty: elementary, intermediate and advanced. In keeping with practice in the baroque era, the pieces are arranged by key and title. We preferred to limit ourselves to a small number of different keys, so that beginners may devote their time to the instrument, rather than to retuning it or to playing pieces far too complex for their level. There is no such thing as bad music, but sometimes there are bad musicians! Making music cannot amount to merely playing the notes, or performing often pointless acrobatics. A "mature" musician most often takes pleasure in playing a simple melody and enjoying the exquisite sounds of their instrument.
We hope this method can be of assistance to those who do not have acess to a teacher (although we advise them to work with one on as regular a basis as possible), but also to teachers lacking sufficient material to allow their pupils to work with in a systematic way.
product details
AUTHOR: Miguel Yisrael
PUBLICATION DATE: 2008
LANGUAGE: English and French versions
SERIES: Theoretical and Educational Texts - La Rhétorique des Dieux
PAGES: pp. 364
SIZE: 230x310 mm
BINDING: Paperback (Soft Cover)
ISMN: 979-0-2153-1599-0 (English Version) - 979-0-2153-1598-3 (French Version)
CODE: DM 67 & DM 66 (French version)
Order